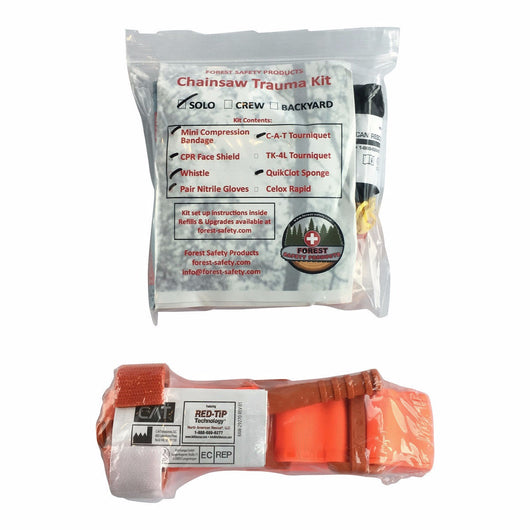 Crew Chainsaw Trauma Kit Refill Pack (No Case)
Regular price $50.00 Sale
A refill of all contents of our Crew Chainsaw Trauma Kit, if you only have the case or want to use a case of your own.
 The contents include
1 Combat Application Tourniquet
1 Compact Compressed Gauze 4.5 in. x 4.1 yd
1 Mini Compression Bandage
1 CPR Face Shield
1 Whistle
1 Pair Nitrile Gloves
1 Re-sealable 4-mil clear zip bag
 Kit Loading Instructions
1 FOREST SAFETY PRODUCTS Chainsaw Trauma Case with Rapid Access Ribbon.
1 North American Rescue Combat Application Tourniquet Gen7 Orange: Since its combat introduction by the U.S. Army in 2005, the Combat Application Tourniquet – a true one-handed tourniquet – has decreased the mortality rate due to extreme exsanguination by 85%. The U.S. Army Institute of Research deemed it to be 100% effective.
1 Compact Compressed Gauze: An ultra-compact roll of sterile, high quality 100% cotton gauze that utilizes a unique crinkle weave that has excellent fluid absorption. It is a 6-ply, 4.5" x 4.1 yd. gauze with finished edges to reduce loose ends or lint.  Features a proprietary packaging process that ensures the most consistent, low-cube package on the market. The package is a rugged and durable vacuum sealed container with easy-to-open tear notches. The ultra-compact storage size expands once opened to cover larger wound areas. An essential item for any medical kit and can be used to control hemorrhage in conjunction with a compression bandage, used as backing gauze for hemostatic dressings or for wound bandaging.
1 Mini Compression Bandage: The Mini Compression Bandage provides a fast, effective tool for many kinds of traumas and injuries (particularly those involving arterial bleeding in extremities). Manufactured with a 4 x 6 inch non-adherent pad with a 42 in. elastic bandage. It has both hook & loop as well as a sturdy C-Clip closure to hold the dressing in place. The bandage is sterile unless opened or damaged.
1 CPR Face Shield
1 Slim Rescue Howler Whistle: Up to 100 decibels, pea-less, ultralight and compact. Comes with a yellow lanyard
1 Pair Nitrile Gloves: Ambidextrous, made of 100% nitrile material which is free of the allergens. Engineered to give users high performance by offering both maximum protection and unsurpassed tactile sensitivity, includes textured fingertips to help with fine motor skills, beaded cuffs for quick and easy donning and a thickened palm for durability and reliability.
1 Re-sealable 4-mil clear zip bag
Kit Loading Instructions
Approximate Size: 5.5"" x 4.5" x 3"
Weight: 11 oz.
For CAT Tourniquet use please see:
and